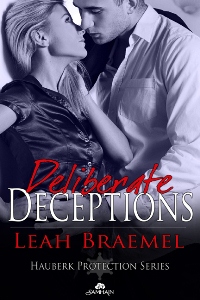 A little lying and misdirection in the name of love is never wrong. Right?
Chad Miller once had the perfect life—a beautiful baby daughter, a loving wife, a promising career with the FBI. Within a year, he'd lost everything. Making Hauberk Protection a success salvaged his career, but he's never managed to get over the one fateful decision that spelled the end of his marriage. And the death of his child.
For eight years, grief and guilt have haunted Lauren Miller's climb up the ranks of the Light Brigade, a secret international hostage rescue team. Now she's the target of a vengeful ex-Brigade operative who'll stop at nothing to take her down. Even if it means taking out everyone she cares about. Including Chad. Getting him to accept her as his bodyguard? It'll take some fast talking—and faster hands.
Trapped in a remote safe house with Lauren is the last place Chad ever wanted to be. He may finally have the chance to get some answers about why she ran, but with his hard-won defenses crumbling, he's having trouble remembering the questions. In the heat of their rekindled passion, Lauren struggles to keep her professional focus…and keep the secrets that could break his heart all over again.
Available in print in PRIVATE DECEPTIONS 
Print ISBN: 978-1-61921-182-7
Samhain ~ Amazon Kindle 

Amazon UK ~ All Romance ebooks ~ Barnes and Noble ~ Kobo
Or buy it in print at Amazon.com, Amazon.ca,  Barnes & Noble,
Book Depository US and Book Depository UK or Indiebound!
---
Publisher: Samhain Publishing
Genre: Contemporary Romance
Series: Book 3 of the Hauberk Protection Series
Length: Category Romance
Released as an ebook May 2011
Digital ISBN: 978-1-60928-457-2
Nominated as "Best Contemporary Romance of 2011″ by the reviewers of The Romance Studio"!

---
---
Deliberate Deceptions is wrought with heady emotions and explosive sex…a gorgeous love story that will break your heart and mend it all over again. Deliberate Deceptions is a stand-out in the contemporary erotic genre. ~ Miranda, Joyfully Reviewed

Once again author Leah Braemel infuses her pleasurably sensual love stories with compelling characters, depth of emotion, delights of passion and the joy of love that equals a treat for the reader. "5 Hearts" ~ Shannon, The Romance Studio
…a fabulous love story~ Scorching Book Reviews
…definitely a great book to read ~Melinda, Fallen Angels Reviews


…it made me teary eyed…has me on the edge of my seat waiting for the next book. ~ Slick, Guilty Pleasures Book Reviews
GREAT LOVE STORY…Great sex and lots of emotion… ~ Dawn, daydrmzzz blog
---
Order eBook: Samhain ~ Amazon Kindle 

Amazon UK ~ All Romance ebooks ~ Barnes and Noble ~ Kobo
Deliberate Deceptions is being bundled with Private Private under the title of Private Deceptions — available January 1, 2013
Preorder your Trade Paperback copy of PRIVATE DECEPTIONS at
Amazon and Barnes & Noble, Book Depository US and Book Depository UK!
---
---