This slideshow requires JavaScript.
Losing his father was hard enough, but now Ben Grady must face the fact that he and his brother may not be sole owners of their beloved ranch. To protect his family's legacy, he's forced to rely on the legal prowess of the woman who stars in his erotic fantasies: Allie O'Keefe. Ben's never forgotten the illicit encounter they shared fifteen years ago—or forgiven himself for letting her go. Read more
Order Slow Ride Home from Carina Press or from
Or order it as an audiobook from Amazon or Audible. 

And if you're from Australia, you can buy it from Amazon.com.au now
---
Northern Heat: Best Canadian Erotic Romance Stories, edited by Opal Carew. These delightful stories show the broad range of eroticism and romance in stories that publishers label as "erotic romance". Some focus on the burgeoning romance between a couple, whereas others focus more on the erotic situation that hints at a romance to build in the future. Yet others are simply a celebration of sexual intimacy. In all, however, the characters are challenged by some aspect of their sexual desire for each other. Published by Quarry Press.
Buy from Amazon.ca ~ Amazon.com ~ Amazon.co.uk
~ Chapters/Indigo ~ Barnes & Noble ~ Powells
BookDepository.com ~ BookDepository.co.uk ~ Books-a-Million
---
I Need You for Christmas, from Carina Press. Part of the Red Hot Holiday anthology.
Ryan Porter is a sculptor, and beneath his callused hands, even the most rigid metals bend to his will. So, too, does his girlfriend Megan—a confident, strong woman who delights in submitting to Ryan's dominance in the bedroom. Read more
Order it from Carina Press, or Amazon.com Amazon.ca, Amazon UK or from Barnes & Noble or Apple or Kobo
If you like "hearing" your books, Audible has the entire anthology as an audio book.
---
Hauberk Protection series, from Samhain Publishing
Private Deceptions is a print anthology combining the first and third books in the Hauberk Protection series. (Private Property and Deliberate Deceptions) If you loved them the first time around in digital format, now you have the chance to own the print copies. And if you've not been able to read them because you don't like digital books, you will be able to read the story that introduced Sam, the owner of Hauberk Protection… read more
Order your copy of PRIVATE DECEPTIONS at
Amazon,BAM, Barnes & Noble, Book Depository US, 
Book Depository UK or IndieBound
---
Private Property, Book 1, available in digital
Also available in print as part of Private Deceptions
Jodi Tyler has loved and lost too many times to believe in happily ever after. That's what makes her no-strings affair with her boss so perfect—his power in bed matches his respect for her independence. Still, when he…Read more
A 2009 Romance Studio Capa Nominee for Best Erotic Romance
Buy from Samhain Store | All Romance eBooks | Kindle Nook | Kobo
---
Personal Protection, Book 2, available in digital and print
She can cover him with one hand tied behind her back. Maybe two.
Sam Watson excels at keeping other people safe. Now a stalker is targeting him, but so what?A few doctored photos and a couple threatening phone calls are no big deal. He can watch his own back. Then again…Read more
…a vibrantly refreshing story that sizzles with a burning sensuality, all with a depth of emotions that will unlock the reader's hidden desires. ~5 Hearts, Shannon, The Romance Studio
Order it as an eBook: Samhain ~ Amazon.com
~ Kobo ~ Barnes & Noble ~ Sony ~ All Romance eBooks
Order as a paperback: Samhain ~ Amazon.com
Amazon Canada ~ Barnes & Noble ~
~ Book Depository ~
Back to Top
---
Deliberate Deceptions, Book 3
available singly in digital,
available in print as part of Private Deceptions
A little lying and misdirection in the name of love is never wrong. Right?
Chad Miller once had the perfect life—a beautiful baby daughter, a loving wife, a promising career with the FBI. Within a year, he'd lost everything….Read more.
…a gorgeous love story that will break your heart and mend it all over again~ Melinda, Joyfully Reviewed
A Romance Studio CAPA nominee for Best Contemporary Romance of 2011
Buy it as an ebook from Samhain All Romance Ebooks | Kindle | Nook | Kobo
---
Perfect Proposal, Book 3.5, available only in digital
Sometimes the best laid plans go every which way but the one you want…
Sam Watson wants to propose to the love of his life, Rosie Ramos, but all his previous attempts have been thwarted. Every. Single. Time. This time he's determined that nothing, and no one, will get in his way. No interruptions. No exceptions. Not from work, not by family busybodies, not even if the roses crucial to his plans are lost. Nothing will stop him.
If only someone had let Rosie in on his plans…
A follow-up story to Personal Protection, but it should stand on its own. Perfect Proposal is a short story of approximately 50 pages.
Buy from Amazon, Apple, Barnes & Noble,
Kobo,  Diesel Books,  and Smashwords.
---
Hidden Heat, Hauberk Protection series, Book 4
available in both digital and print formats
Appearances can be deceiving, even to those who think they know you. That's a fact Troy McPherson counts on as he manages Hauberk's international offices while occasionally being called upon in his other career: assassin…Read more
The sexuality, sensuality, passion and suspense blend together perfectly into a wonderfully engaging and entertaining story that keeps the reader on the edge of their seat. ~ Shannon, The Romance Studio
Buy it as an ebook from Amazon.com | Barnes & Noble | Samhain
Diesel Books | Kobo | Sony Reader
Buy it as a paperback from Amazon | Books-a-Million | Barnes & Noble
Book Depository | IndieBound
---
Westerns from Carina Press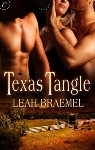 Texas Tangle
Thanks to her cheating ex-husband and her thieving brother, all horse breeder Nikki Kimball has left is a bruised heart, an over-drawn bank account and an empty home. When sex-on-legs Dillon Barnett and his brooding foster-brother Brett Anderson start showing more than just neighborly attention, Nikki is intrigued…and a little gun-shy……Read more
…a fantastic romance that stretches the boundaries. "Reviewer's Top Pick" ~ Terri, Night Owl Romance
Buy from Carina Press | Amazon Kindle | All Romance eBooks
Barnes & Noble | Kobo | Sony
---
Forced to marry a man she just met, Sarah McLeod clings to the hope that she'll finally find the love and acceptance she's always craved. But her tenuous dreams of a happy life on the frontier are in danger of being dashed by the one thing she can't change—her husband's love for another man…Read more
5 Stars and a Top Pick: Once again Ms Braemel has made her story come to life and taken me along on the journey ~ Terri, Night Owl Romance

Recommended Read: Sinful, sexy, mesmerizing and intoxicating. ~Lady Rhyleigh, All Romance eBooks Cafe
Buy the eBook: Carina Press | Amazon Kindle | Barnes and Noble
All Romance eBooks | Kobo